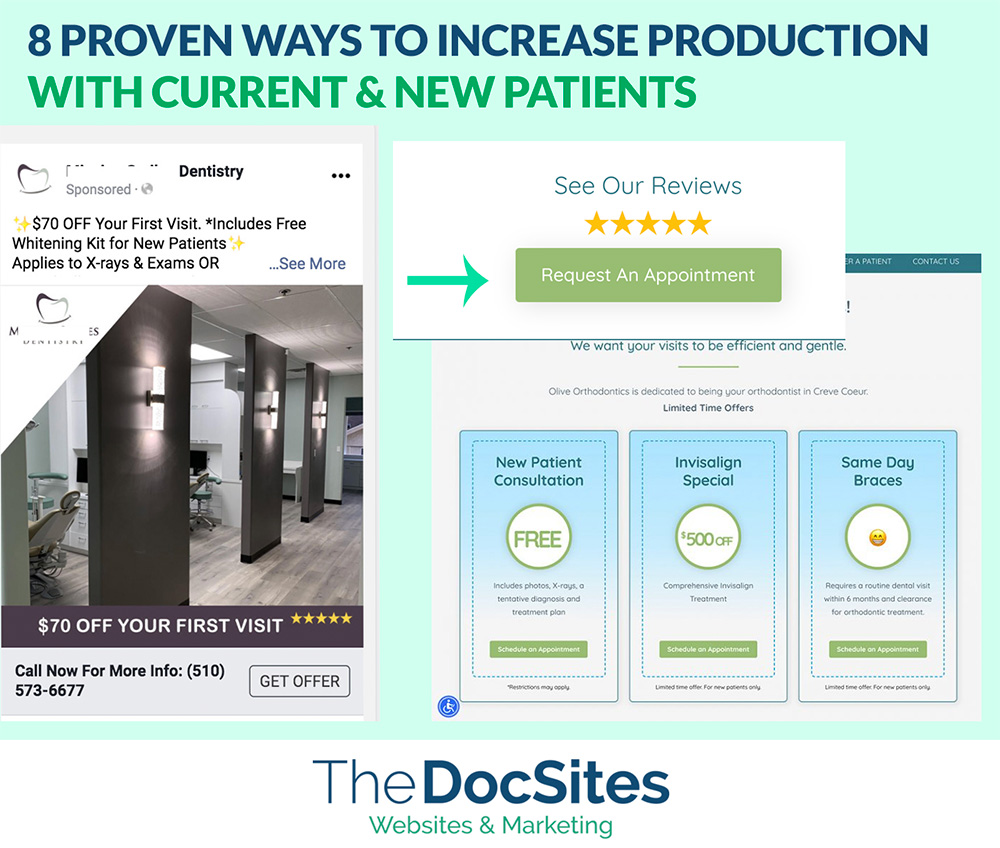 Dentists looking to increase their production with current and new patients need to leverage a combination of internal marketing, and external marketing to succeed. 
Below are 8 Proven Ways to Increase Production with Current & New Patients: 

1. Get your current patients back in the chair for treatment 
Whether you use the phone, emails or text – the "lowest hanging fruit" most practices have is the opportunity to get current patients – or get those who didn't show up previously in the chairs. 
2. Add "New Patient Special Offer" on your website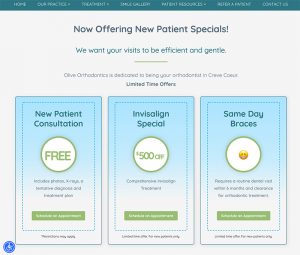 At DocSites we create unique pages with the titles of "Special Offer"on our clients' websites and we've seen from experience that more often than not, new patients will click to see what offers are available.
3. Increase your positive reviews on Google My Business / Yelp
The more positive reviews you have on these profiles, the more likely patients will trust your practice and book an appointment. Create a simple process of asking your happy patients to leave you positive reviews at the right time.
4. Optimize your SEO for "Emergency Dentist Near Me" 
If you happen to offer this service, you can gain additional reach by optimizing your website for keywords like "Emergency Dentist Near Me."
5. Highlight your Before/After work on Facebook & social media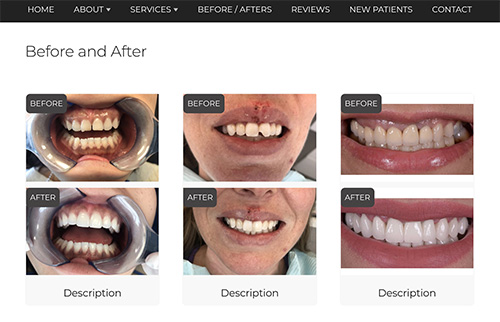 People tend to believe what they see more than what they hear or read. Make sure you have a Smile Gallery on your website and post your before / after work on social media for your community to see.
6. Use targeted ads with a special offer to bring in new patients 
Make sure that your offer is something of real value to patients – and personalize these ads with photos of your practice, team & staff for best results.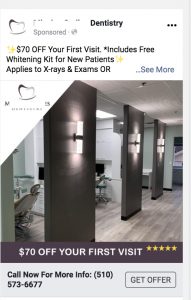 7. Create & optimize dental treatment pages
SEO (search engine optimization) takes time to see results, but it's one of the best investments you can make to attract new patients consistently from Google.
8. Provide patients an EASY way to make appointments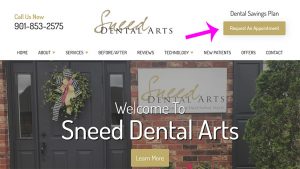 Make sure your website has a clear call to action that reads "Request An Appointment" that leads to a simple form that patients can fill out and get a call back.
How Can We Help Your Dental Practice?
Call us directly at 888-980-4949 to speak with a dental marketing expert today.