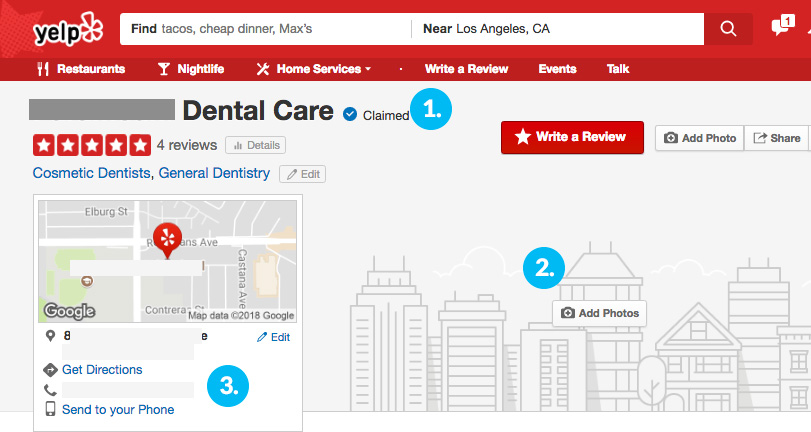 Do you think just having a "claimed" Yelp profile is all you need for yourself and your practice? Think again! Dentists, your drawbacks on Yelp might be keeping you from many potential new patients.
With 9+ years of dental marketing experience and working with over 250+ practices around the nation here is what we've learned.
Dental practices of all sizes and types need to avoid these mistakes we commonly see in our 9+ years of working with over 250 dental practices.
1. Dentist Name is Not in the Profile
If your Yelp profile does not include your name – ie. "John Smith, DDS" then your Yelp profile doesn't show up when people Google your name!
This is vital because almost everyone who is thinking about becoming your patient will Google your name, even if they've been referred to you.
If you are an individual practitioner, put your name full name in your Yelp profile. "ie. – "Happy Tooth Dental – Dr. John Smith, DDS"

2. No Photos!
Over 80% of the information our brains process is visual. If you're missing photos, you are robbing yourself of the opportunity to show people what makes your practice unique.
Some ideas for photos:
• Dentist(s)
• Office staff
• Before/after photos
• Office environment, waiting room
• Happy patients (get their permission first!)

3. Missing Website
Yelp provides an area for you to place your website address so people can easily access it.
Your website gives you the opportunity to share a lot more information about yourself / your practice that YOU control. Make sure people can get to it quickly, after they've read your great reviews.
If you have a website, make sure the link is placed in your profile. If you don't have a website – why not?!
At the time of this writing Yelp is the #1 Reviews site for dentists and physicians.
Make sure you or your marketing company is staying on top of the best practices.
If you have any questions or would like some help with your Yelp Optimization – please feel free to call (888) 980-4949 or visit www.TheDocSites.com