A common mistake we see on Dental/Medical websites is not segmenting service or treatment pages. Many times, we see websites with only one service page and all the services just listed and no specific description or content for each service. This is a huge mistake.
Creating individual service pages can help you gain more patients!
Here are the ways your service pages can help you:

1. It can help you improve your Search Engine visibility 
By including the the treatment you provide with the city included in the Title and meta-data, it can signal to Google to show your page when local searchers are looking for that treatment.
"Cosmetic Dentist in "city"
"Dental Crowns in ….  "city"
Google is reading your website to help their searchers with the best results. Not having the treatments titled with the city is making you lose on growth opportunities.
2. Provide your Patients Value
Having segmented treatment pages allows your visitors to read descriptions, features, benefits, and other details of the treatments. Quality patients spend time researching about treatments before deciding. Having descriptive pages can provide value for your patients who want to know what you offer, and why they should choose your office.
3. Support other Advertising Avenues
If you are using magazines, mailers, or Google ads to advertise specific treatments like all-on-four dentistry, having a page that is dedicated to that specific treatment and routing all of your ads to that page can help increase your leads as opposed to putting all of your treatments on one page, where they may get lost in the shuffle.
What to include on your Treatment pages:
Besides including descriptions about the Treatment, we recommend including:

1. Unique Value Propositions About Your Office
Include the reasons a patient should visit your office, you can include your experience, # of cases completed, technology, financing opportunities & more! See the example below for ideas.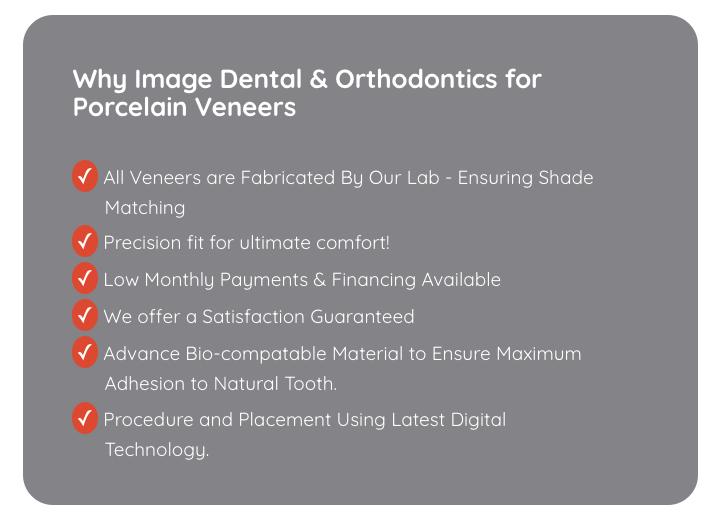 2. Photos and Videos
They say a picture says 1000 words! This is such a great opportunity to showcase treatments you've completed, patient testimonials, and videos of you describing the treatment in detail. Personalized content on your website is a significant difference maker – don't neglect it.
3. Answers to FAQs
Including answers can help inform and alleviate any concerns a patient may have. This will give you an upper hand to an office who does not answer these questions on their website. You don't need to include all the answers to all the questions but crucial ones that you are asked often.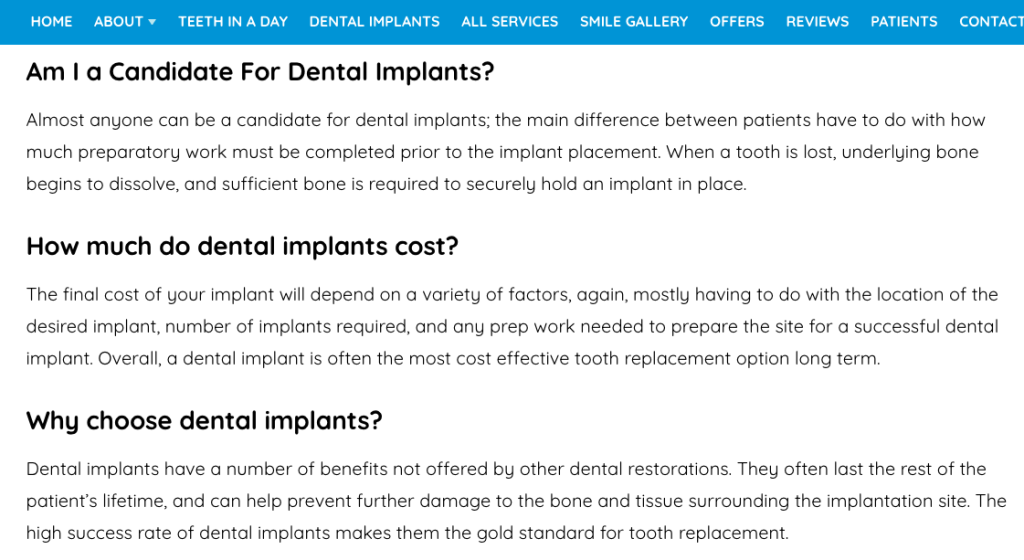 4. Call to Actions
Make sure your Service pages have headlines and text that inspire website visitors to contact you. This may include "Schedule Your Complimentary Consult", or "Learn More about How We Replace Your Tooth in 1 Day!"
Creating segmented and well executed service pages are a crucial part of online marketing for a dental practice and can make a huge impact on your bottom line. We are always here answer any questions you may have! (888)980-4949 or click here.