What makes for a great dental website? Checkout this dental website design review from Southern California dentist and practice owner Fariborz Matian, DDS.
Local dentist shares his reviews of DocSites for his dental website design & development.
"We're getting new patients from the website and this point. It's been a positive experience for us." -F. Matian DDS, Implant & Periodontal Solutions
"It's been a great advantage for my practice. It was an easy venture for us. We just told them exactly what we wanted on our website, and their team put everything up for us. Very easy. I'm very happy with our website."
Fariborz Matian, DDS
"I would recommend DocSites for anybody that does or does not have a website , because the way they put it together is NOT cookie cutter. The website is very personalized and they make it they want you want…. I'm very happy with them."
Aida Yashar-Matian, DDS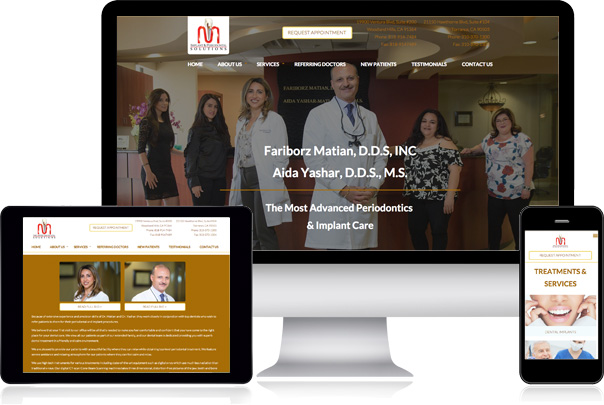 Why Choose DocSites for your Dental Website Design?
-Mobile-friendly website
-No Long Term Contracts
-No Hidden Fees
-Immediate Live phone support
-No Work from you! We do all the photoshop and setup.
-Cancel Anytime
After we launch your new website, you only pay $49 per month – this includes hosting, back ups, security, maintenance, and any updates you want (which we will take care of for you).
Do You Have A Question?
Call Us Today 888-980-4949 or visit www.DocSites.com